Devizes Grammar School (private) 1874 to 1917 in Heathcote House
Heathcote House and its front wall are grade 2* listed buildings.
This document has two parts;
A documentation of the House's history and its use as a Grammar School

An appendix

provides more details of the Pugh families who lived and taught at the Grammar School.
1. The House's History and Grammar School use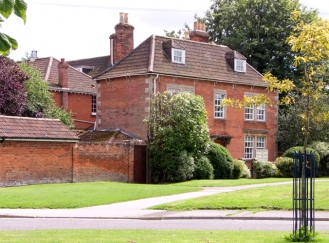 A parsonage house for St. James' Church, the Green Church, stood on the Green in 1647 on the site of what is now Heathcote House (C. W. Pugh and C. A. Plaxton, History of Southbroom (private printing 1936). It had a barn and glebe land amounting to a little over an acre. It was still there still there in 1736–7 (Devizes map 1736-7). By 1841 it had been rebuilt and was in lay ownership (Wiltshire Records Office - tithe map, Southbroom). English Heritage has dated a beam in the southwest elevation of the current Heathcote House at 1786. The rest of House appears to be early to mid 19th Century.Heathcote House. .
In 1871 the Reverend Samuel Sargent Pugh Minister of the New Bapti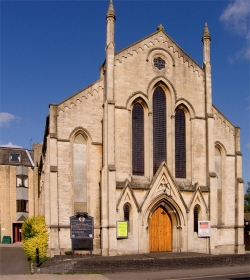 st Chapel (below) in Sheep Street, set up a school in his home at 3 Lansdowne Grove. The purpose was to provide 'advanced education for boys'. In 1874 the school moved to Heathcote House on the Green; his twin sons were born there in that year. Clarence and Cyril were to take over the School as joint principals on their father's death. in1899.
By 1879 it had changed its name to Devizes Grammar School. Prior to this the name Grammar School was used by the Devizes Proprietary Grammar School Co. Ltd. in 1859. It was formed by a group of Devizes residents. Soon afterwards it opened a school in 41, Long Street, later to become part of the Wiltshire Archaeological and Natural History Museum, but it closed in 1871.
The Devizes Grammar School in Heathcote House was a boys' private Grammar School that took day pupils and up to 8 boarders. The advert below was placed in the 1889 Kelly's Hampshire Directory. The school heralds its provision of a middle class education for Boarders and Daily scholars.The annual cost for boarders was 30 guineas or £31.50. There was a reduction for more junior boys or if two boys from the same family were registered. The school provided all books and stationery for this fee. The 1895 Kelly's directory has an advertisement for both day and boarding pupils too.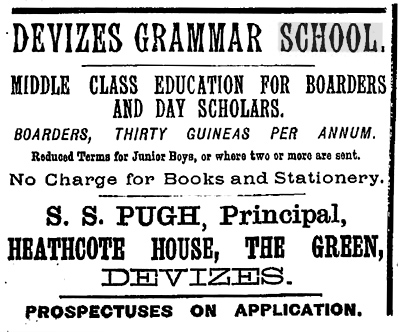 The bar chart shows the small number of boarders and teachers who lived in Heathcote House; the data is from the 1881, 1891 and 1901 census. At present we do not know the number of local boys who attended daily.By this date trains were available from Pewsey, Westbury Trowbridge, Melksham and Chippenham to Devizes.
The 1881 census lists Bernard Pugh, then aged 21 the oldest son, as teaching at the Grammar School; he is listed as Master in School. Samuel Pugh wrote books for his pupils some of which survive in the Wiltshire Museum in Devizes along with old photos of the staff and boys. They seem to have specialised in gymnastic type poses for school "shows", with older boys supporting younger ones in 'star' like formation.
Samuel S Pugh died in 1899 and his twin sons Clarence and Cyril aged 25 took over as joint School principals. Their mother Mary stayed on with them in the House. In 1909 Cyril Pugh left the School and took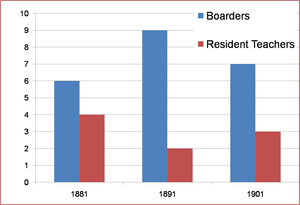 up holy orders. On his departure Clarence's elder sister Constance (Mary C Pugh) assisted him with the teaching at the school. In 1913 Clarence managed to purchase Heathcote House for £900 from the owner of the Southbroom House Estate Robert H Caird. His father had secured a long term lease/ rental from the the Southbroom Estate in 1874.
In the First World War Clarence served in the Royal Marine Artillery and in 1917 the school closed. Why this was so is unclear but by Christmas 1917 he had agreed to rent the house to another teacher James W Thurnham for seven years for £100 per annum. There seems to be no record of Thurnham running a school. But by May 1920 Clarence managed to gain vacant possession from Mr. Thurnham and completed the sale, for £2500, to Wiltshire County Council.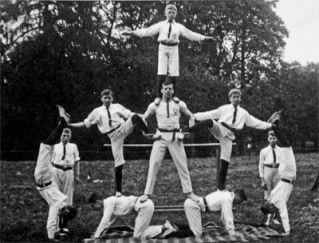 The Council bought House in 1925 with a 7 acre estate. This House and estate were then re-merged with Heathcote House and its gardens. Eventually the Council founded Southbroom Secondary School which evolved into Devizes School, a large comprehensive school built around Southbroom House. The story of House is tied up with Southbroom Secondary School and Southbroom Infants School and it continued with a County Council educational role until 2002. Heathcote House is now a private Infants school for children aged 3 months to 5 years old.
Above: a gymnastics display by the boys in about 1905
Clarence Pugh went on to lead a productive and rich life of great value to Devizes as detailed in he appendix below.
Heathcote House also appeared under Historic Houses; this gives more details of the English Heritage listing and other owners of the House up to modern times
Appendix
Reverend Samuel Sargent Pugh and his family.
The Reverend S.S. Pugh was born in Waltham, Essex in about 1826.He married his first wife Ann Elizabeth in Hertfordshire ca 1855. By 1861 they had three children - Ella 4, Catherine 3 and Bernard 1. Ella and Catherine were born in Southampton but Bernard was born in Devizes. This shows that Reverend Pugh was appointed as Minister of the new Baptist Church in Devizesca 1859. Ann died in December, 1862 aged only 31 - possibly in childbirth.
Samuel Pugh married his new wife Mary in March 1865 in Leighton Buzzard, Bedfordshire. In 1871 they were living in Lansdowne Grove with 2 new children Mary 2 and Emily 1 and 3 older children, a nurse and house servant.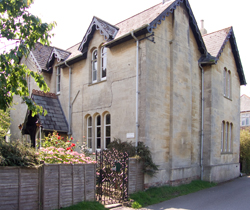 Clarence Pugh MBE remained a bachelor for life. He retired from teaching in 1917 at the age of 43. After selling Heathcote House he went to live with his sister Constance at Hadleigh Cottage (right), near the Canal on St. Joseph's Walk in Devizes. In retirement he was very active within the community in a large number of unpaid ways;
He was Hon. Librarian at the Wiltshire Heritage Museum for many years. He had a keen Interest in archaeology and had assisted Captain Cunnington in his excavations at Woodhenge and All Cannings. He also served as Hon. Secretary to the Museum.

He is well remembered for his long service to national savings. He was the first Secretary to the Devizes and District national savings branch form 1922 to 1946.

He served on numerous committees including the old Devizes Education Committee, Chairman of the State Devizes Grammar School on Bath Road and the Devizes Secondary School and the Board of Management of the Devizes Hospital. He was Second World War Mayor of Devizes.
He died in October 1954 aged 83 and was cremated in Bristol. A memorial service was held for him in St. James' Church on the Green later in October 1954.