Heathcote House Devizes
This a grade 2* listed historic House situated on the Green, Southbroom Road Devizes .Heathcote House and its front wall are grade 2* listed buildings.This document has two parts;
A documentation of the House's history, the schools that have occupied the House and the people who have lived there

The English Heritage listed building statement for Heathcote House
1. The House's History and Grammar School use
In 1647 a parsonage house for St. James' Church, the Green Church, stood on the site of what is now Heathcote House (C. W. Pugh and C. A. Plaxton, History of Southbroom (private printing 1936).
It had a barn and glebe land amounting to a little over an acre (glebe means land in addition to house and gardens to support the parson to live and support himself). It was still there still there in 1736–7. (Devizes map 1736-7). By 1841 it had been rebuilt and was in lay ownership (Wiltshire Records Office - tithe map, Southbroom). English Heritage has dated a beam in the southwest elevation of the current Heathcote House at 1786. The rest of House appears to be early to mid 19th Century.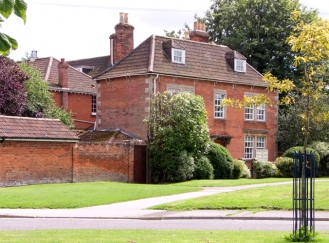 In 1871 the Reverend Samuel Sargent Pugh Minister of the New Baptist chapel Sheep Street, set up a school in his home at 3 Lansdowne Grove. The purpose was to provide advanced education for boys. In 1874 the school moved to Heathcote House on the Green and twin sons Clarence and Cyril were born. They were to take over the School as joint principals on their father's death. By 1879 it had changed its name to Devizes Grammar School. It was a boys' private grammar school that took day pupils and up to 8 boarders. The 1895 Kelly's directory has an advertisement for both day and boarding pupils.
Samuel S Pugh died in 1899 and his twin sons Clarence and Cyril aged 25 took over as joint School principals. Their mother Mary stayed on with them in the House. In 1909 Cyril Pugh left the School and took up holy orders. On his departure Clarence's elder sister Constance (Mary C Pugh) assisted him with the teaching at the school.
In 1913 Clarence managed to purchase Heathcote House for £900 from the owner of the Southbroom House Estate Robert H Caird. His father had secured a long term lease/ rental from the the Southbroom Estate in 1874. In the First World War Clarence served in the Royal Marine Artillery and in 1917 the school closed. Why this was so is unclear but by Christmas 1917 he had agreed to rent the house to another teacher James W Thurnham for seven years for £100 per annum. There seems to be no record of Thurnham running a school. But by May 1920 Clarence managed to gain vacant possession from Mr. Thurnham and completed the sale for £2500 to Wiltshire County Council.
In 1926 Heathcote House was integrated into a new Southbroom Secondary School based on Southbroom House. In 1925 Wiltshire County Council had bought the adjacent mansion of Southbroom House and 7 acres of grounds for a school from W.E. Chivers. Southbroom House was adapted as a senior school for children over the age of 8 in the south ward of the town. The new school opened on 30th August 1926 with 277 pupils, a Head and 8 teachers.
Heathcote Housewas used initially as the Headmaster's residence and was used for residential purposes in part until 1972. In1929 a large classroom at the rear was adapted as a Domestic Science Room for Southbroom Secondary School. In 1936 a new block was added to the Heathcote House section to form a Handicraft Centre and Science Laboratory.
In 1949 the school became a secondary modern as Southbroom Secondary School. In 1950 there were 452 pupils and this rose to 590, aged between 8 and 15, by 1954. The school was too small and was enlarged in 1956, and again in 1964. In 1969 Southbroom Secondary School was merged with the Devizes Grammar School (Bath Road and Braeside) to form the comprehensive Devizes School. The school was housed on the Southbroom site and the existing buildings were further enlarged. By January 1973 there were 1,373 pupils on the school roll.
Southbroom In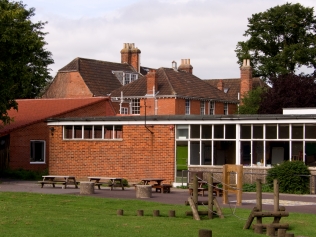 fants' School in Heathcote House, Devizeswas formed in 1957 when the Southbroom Parochial School was split into two with the infants going to Heathcote House. The 2009 photo on the left shows the Infants School with the now private Heathcote House to the rear. The premises were later enlarged and in January 1973 there were 451 pupils on the roll. In 1998 it was one of the largest infants schools in the county with 238 children. In 2002 there were 242 pupils.
Heathcote House private Nursery
School.Since 2003 Heathcote House has not been part of Southbroom Infants School. It houses a thriving private day nursery school. The school has 5 staff and has places for up to 63 children aged 3 months to 5 years. It is open 5 days a week 51 weeks a year between 8 am and 6 pm.
English Heritage Listed Building statement for Heathcote House
Heathcote House is grade 2* listed. The house contains parts of a 1786 building in the south west elevation, an interior beam has been dated to 1786. The front wall facing the Green is also Grade 2* listed
Location: Heathcote House, Southbroom Road, Devizes, Wiltshire.
IoE Number: 435390. Grade 2*. Date listed: 09 April 1954. Date of last amendment: 19 September 1972.
1. 1042 SOUTHBROOM ROAD (East Side) Heathcote House (Formerly listed under Southbroom Place) SU 0061 3a/195 9.4.54. II*
2. Early to mid C18th with later additions, it has 2 storeys, an attic and basement. Red brick on projecting plinth with stone capping, chamfered stone quoins. Moulded stone eaves cornice. Hipped stone tile roof partly re-roofed with double Roman tiles. 2 hipped roof dormers with small sashes. 2 paired windows and central single window on 1st floor. 2 paired windows and central door on ground floor. All windows sashes with glazing bars are intact and set in moulded stone surrounds those on ground floor with additional moulded cornices. Recessed bay of 1 similar window each floor to right. The door is recessed of 6 fielded panels in moulded stone surround with plain outer stone frame and carved stone brackets supporting flat stone hood with stone vase over. To left hand one 3 light stone framed and mullioned basement window.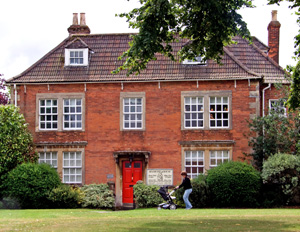 The south west elevation is late C18th (1786 according to interior beam). Brick dentil eaves cornice. 2 dormers. 5 irregularly spaced recessed sash windows, glazing bars intact. Glazed door. The interior has been considerably altered in C19, but 1/4 fielded panelling remains in front rooms and one flight of turned balusters and swept up handrail to the stairs. Bay window of early C19 dining room now gives on to conservatory which has a very deep lead lined cistern probably connected with original house.
The Wall
Location: Boundary Wall to the front of Heathcote House, Southbroom Road (East side)
IoE Number: 435391Grade 2*. Date listed: 19 September 1972. Date of last amendment: 19 September 1972
1. 1042 SOUTHBROOM ROAD (East Side) Boundary wall to front of Heathcote House SU 0061 3a/195A II* 2. Low brick boundary wall across front with weathered stone coping, central stone gate piers with small gate stops, formerly had inverted scroll tops.