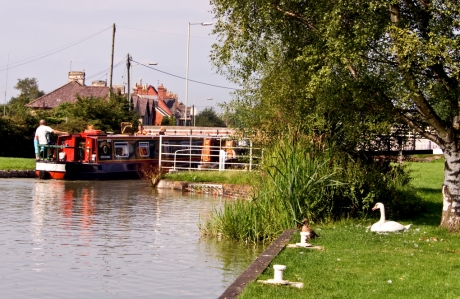 Above Prison Bridge leading to the descent of the Caen Hill flight of locks - below.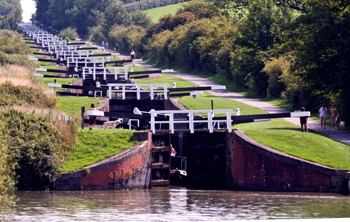 Below a wonderful aerial photos of the Caen Hill locks in 2009; the Devizes Melksham road and track bed of the old railway line are clear too. Photo courtesy of and copyright to Neil Maw & Ray Kyte at www.whereitis.co.uk.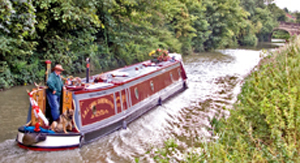 Above man and dog approach the London Road bridge in Devizes.
Kennet and Avon Canal
The Canal provides a wonderful recreational resource for visitors to and residents of Devizes alike.
The photo gallery below attests to the use by walkers, cyclists, anglers and of course canal boaters. The annual Devizes to Westminster canoe race starts at the Wharf in Devizes on Easter Friday.
The Canal and associated locks and pounds, reed beds and hedgerows provide a rich habitat for wildlife.
The Kennet and Avon canal was started in 1790, but it was not until 1810 that the canal was complete. The Caen Hill flight of locks had delayed the completion.
A short history of the Canal is provided on a separate web page; it provides details of the idea, the construction, industrial use, demise and bringing it back to life.
The Canal made a most significant alteration of the industrial age in Devizes. It had an impact on both the road network and the development of a small industrial area of the town. The Canal was built across the northern side of the town, just outside the historic core. A wharf was built to the north of New Park Street, which attracted some industrial activity to this sector of the town.
This website covers the section from Seend to Devizes and on to Horton.
The Kennet and Avon Canal Trust have an excellent Website which details the History of its construction and current use information. It has notes too on current developments and repairs.