Old Photographs and Printsof Devizes
There are a collection of old photos, postcards and newspaper clippings. The quality of some photos and newspaper prints is not high but they are worthwhile in terms of historical interest. Please note that you can make these pictures larger by clicking page in the navigation bar and using the zoom function.
If you have photos or postcards that you would like to share with others in Devizes and Wiltshire Contact Devizes Heritage or phone 01380 723519.
There are some interesting aerial photos below, but most old photos are in the Photogallery with descriptions of the Old Photos.
There are many other old photos of Devizes in the following photogalleries;
Above is an aerial photo of Devizes in about 1970. Please click to get an enlarged version
Note: The railway track bed - the lines have gone, the tunnel is still open, the North Wiltshire United Dairy is on Pans Lane and the gasometer is by the Canal etc. Courtesy Jack Yeates, Old Park estate.
Below is a post card (DH collection) the Roundway Hospital (Asylum for the Insane) in abut 1903. This is from an old postcard and it shows a horse and carriage waiting at the West Side of the Asylum. Possibly some digniatries were visiting. The Hospital closed on this site in the 1990s; the grade 2 buildings have been converted to residential apartments in a park like setting, with Drews Pond Nature reserve nearby.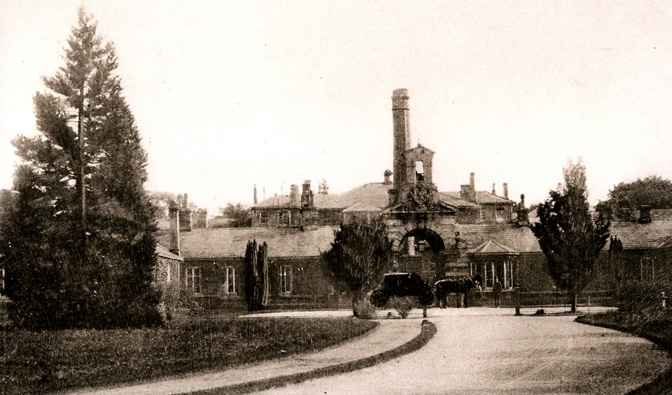 Below is the oldest known photo of Brownston House , 47 New Park Street. - about 1890. John Girvan local historian retrieved the glass plate from a rubbish tip, photographed it and set Devizes Heritage the task of photographically repairing it ( see the before and after photo below.
Below Devizes Prison - County House of Corrections - a 1924 aerial view of this polygonal building bottom right. The Governors house has been removed in the first phase of its demolition by W.E. Chivers. Photo courtesy Glynnis & Terry Hillier (Landlords Blackhorse Inn). Note the Railway and station, the Wiltshire Constabulary HQ on the left of Bath Road, and the road down Caen Hill. There is a Devizes Heritage article on the Prison.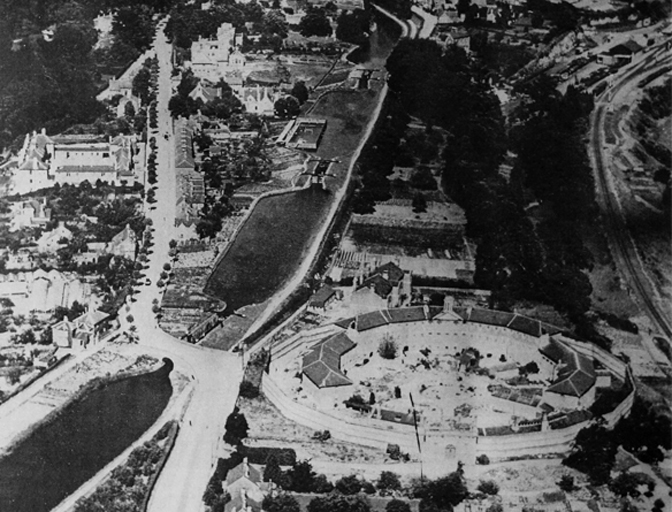 Below is an aerial photo of Caen Hill taken in about 1960. The locks are empty and derelict but the railway is still operational (right). Photo courtesy of Glynis and Terry Hillier.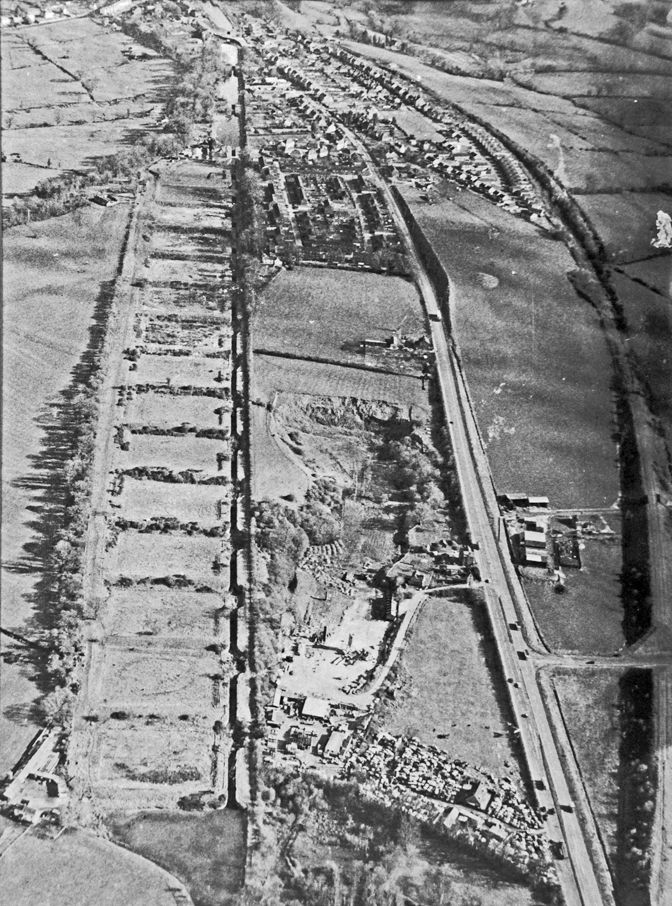 Below is an aerial photo of Devizes School being built, it shows Southbroom House, the Green and Estcourt Street - no Morrisons! Courtesy of Wiltshire History Centre.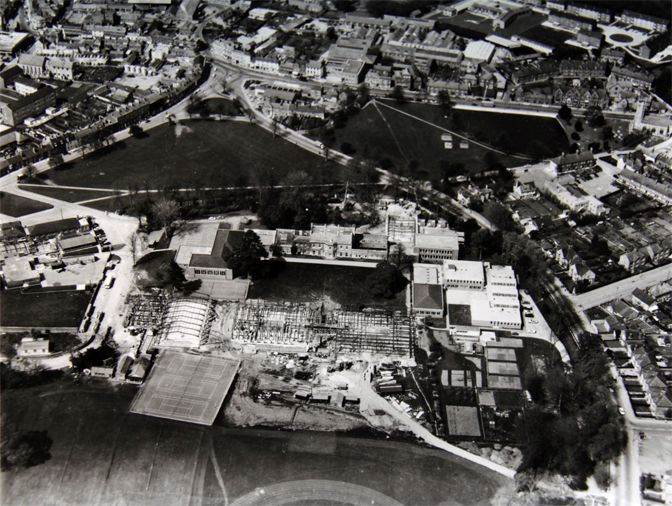 Below are 2 photos of the Assize Courts on Northgate Street. Note the railings on the 1920s photo at left. The photo on the right is ca 1980s. They were built by public subscrition in 1835 and finally closed, after multiple uses in 1982. They are now decaying and reperesent a public failre to conserve and utilise our heritage positively.