Le Marchant Camp, Devizes, Wiltshire - camp 23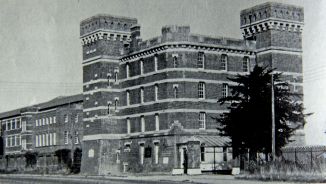 It was located about 1 mile from the le Marchant barracks on the Devizes to Horton Road. It was a hutted Camp that had previously been used by Militiamen in 1939. At first it was used mainly as a transit camp.
The first party of German POW came after the fighting near Falise in the summer of 1944. After that 2500 came in 5 special trains every day at 2 hourly intervals. Five trains a day left Devizes every day taking POWs all across the UK for further interrogation, grading and imprisonment. It became a permanent camp for up to 7500 POWs in November 1944. Large numbers were being captured after the D Day landings in the summer of 1944.
Prisoners would progress through a series of camps, where their political allegiances were determined. Non-Nazis were graded "White", dubious cases were "Grey", and hardened Nazis were "Black". Prisoners wore patches with these colours so that they were known. As a general rule, the "Blacker" the grading, the further North the camps where prisoners would be housed. Prisoners were also shipped to camps in Canada, and later the US, to safeguard security as much as lack of space.
POWs were brought to Devizes Railway station by train and marched to the Camp via Avon Road, Rotherstone, Commercial Road and London Road to avoid the centre of Devizes. They were sometimes shouted at and spat upon. They were dispirited and many of them wore dirty and ragged uniforms. However many of them were happy to be out of the war and not all were hardline Nazis.
Below left is the cover of a diary of a POW in camp 23 Devizes. This has been purchased by the Wiltshire Heritage Museum in Devizes. The drawing is charming and informative. The identity of the soldier, who wrote the exquisitely illustrated diary in Le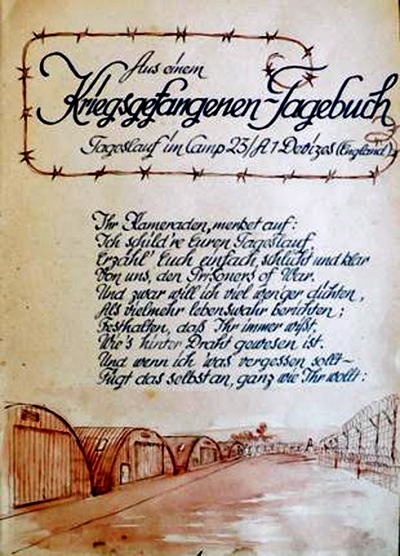 Marchant Camp Camp 23 on London Road between 1944 and 1946, is not known. The diary is 56 pages long and written in rhyming German dialect. It contains humorous accounts of lif
e in the camp, including the terrible food and how cigarettes were used as currency.
A translation of the words on the cover is "From the Diary of a Prisoner of War Daily Routine in Camp 23/A1 Devizes (England). Now comrades pay attention:I will describe your daily routine,simply, plainly andclearly I will give an account of us POWs. Actually, I do not want to write poetry,so much as to record everything accurately;a clear account so that you always remember what life was like behind barbed wire. And should I leave anything out feel free to make any additions yourselves" translation coutresy of Marlis Rawlins.
When POW they reached the Camp they were taken to along hut, stripped and searched, anything useful was confiscated. They were then graded by German doctors according to any maladies; e.g.S for scabies, L for lice. They were then given a shower and prison uniforms and deloused with a spray gun up their sleeves and down their pants. They were fed and bedded down for the night and the next day sent off to more permanent quarters.
Guarding and escorting these POW was a major exercise and used 1000 British military policemen; these were based at le Marchant Barracks for this purpose. Thirty police escorted the POW on the trains and 30 escorted them from the station to the German POW camp.
Later in the war the Camp became used for about 7000 more permanent prisoners including some trouble makers from other camps. Security was a big problem and each morning there was a parade in each of the 10 compounds. Every night the prisoners were counted by the duty Officer.The Germans were guarded by a company of the Pioneer Corps and a Polish Guard Company. There was always tension between the Poles and Germans who had destroyed their country.
Older children would swop sweets for badges and buttons through the wire fence.
Some very interesting Personal memories of the German POW Camp are given on a separate web page.
Escape attempts and murder
There were frequent escape attempts and at least one tunnel was dug. One group broke out but came back of their own free will.. One German got as far as Dover and tried to escape in a motor boat but was foiled when he tried to buy petrol.
There were several major camps in Great Britain with several being designated to handle dedicated hard-core Nazi-types. The main one was Camp 23 (Le Marchant Barracks) at Devizes in Wiltshire. Here most of the POW's were screened for their political sympathies after their capture mainly in France and Italy. Those identified as hard-core were distributed to other camps with some 4000 of them ending up at Camp 21 – Cultybraggan, Comrie. Cultybraggan Camp was built between 1939 and 1940 as a prisoner-of-war camp. Its official number was POW Camp 21. Essentially it comprised two camps or compounds, both situated on the site of Agricola's great marching camp of two thousand years before. The camp was designated to hold hard-core Nazis. Some had been taken prisoner prior to 1944 however the number increased to about 4000 men after the Normandy campaign. Several of the prisoners selected for transfer from Devizes however, were not Nazis, but just ordinary German soldiers who had been conscripted for war service and who had been sent to Cultybraggan because they had been wrongly classified in their initial processing after capture or surrender. The populations of both were considerable and new arrivals were a daily occurrence.
The murder of Wolfgang Rosterg.
One such arrival at Devizes was Feldwebel (Sergeant Major) Wolfgang Rosterg.Little is known about the personal history of Rosterg other than he was relatively old for a soldier being in his early thirties, wore thick black spectacles, and was said to be the son of a wealthy German industrialist. He had been a prisoner at Devizes and his POW number was A7888778 . He was transferred bus, along with 30 other POW's, at Cultybraggan on December, 17th, 1944.
Five days later on December 22 he was found dead, but the cause of his death was far from natural. The story, as it is known, can be unravelled but in an incomplete fashion as the official papers regarding the case are filed away under lock and key. At the time of his arrival at the camp in Dalginross, Comrie, it was guarded by Polish soldiers and naturally enough their hatred of the Germans was based on the total destruction of their country in 1939. They were not to be trifled with by any German...and the Germans knew it!
In December 1944 there was a plot by some POWs to escape from Devizes POW Camp.
Below is one account of the escape plot
There was in December 1944 an audacious plan hatched by Waffen SS officers and some Fallschirmjäger troops to break out of their camp in Devizes, Wiltshire and seize weapons, including tanks from a local army depot and march on London, all this was to coincide with the Ardennes offensive which was taking place in Europe. The Ardennes Offensive lifted the moral of many German prisoners as they though this would lead to their liberation but they were very much mistaken.
Although the plan sounds ludicrous it caused the British some concern and not unfoundedly as there were around 250,000 prisoners in Britain (the equivalent of 48 divisions) at that time and the British and American forces stationed in Britain numbered considerably less as they were fighting in Europe and the Far East. The plan was fortunately discovered and the perpetrators were dealt with, being sent to Comrie Camp in Perthshire (Camp 21) in the wilds of Scotland which housed hard-line line Nazis (mainly young Waffen SS, Fallschirmjäger and U-boat crew prisoners) out of the way of other moderate prisoners.
This did lead to one very unfortunate incident where Feldwebel Wolfgang Rosterg-a known anti-Nazi was sent by mistake. He was believed to have informed of the plot to march on London and after a severe beating was hanged in the latrine. Five prisoners were caught, tried and hanged in Pentonville Prison in North London on 6th October 1946. Another prisoner- Unteroffizer Gerhard Rettig was beaten to death for his open criticism of the plan and was beaten to death after being chased round the camp and two other prisoners were executed in November 1946 in Pentonville Prison.
For further history see 'For Fuhrer and Fatherland', by R De Normann. It is also mentioned in 'Thresholds of Peace'.
Closure It closed in April 1946 and became a German Prisoner of War Working Camp for 410 people and finally closed in February 1947.
If you have any pictures or stories from the war please e-mail or phone Devizes Heritage direct by clicking here.