Private Schools at 40 and 41 Long Street Devizes
Numbers 40 and 41 Long Street are now the home of the Wiltshire Heritage Museum
Three schools have occupied number 41 Long Street. They are:
Mrs Elliot's Ladies Boarding School ca 1830 to 1853

Miss Buckland's Ladies School ca1854 to 1862

The Devizes Proprietary School 1862 to 1871
NB The English Heritage listed building statement appears in an appendix at the bottom of the page.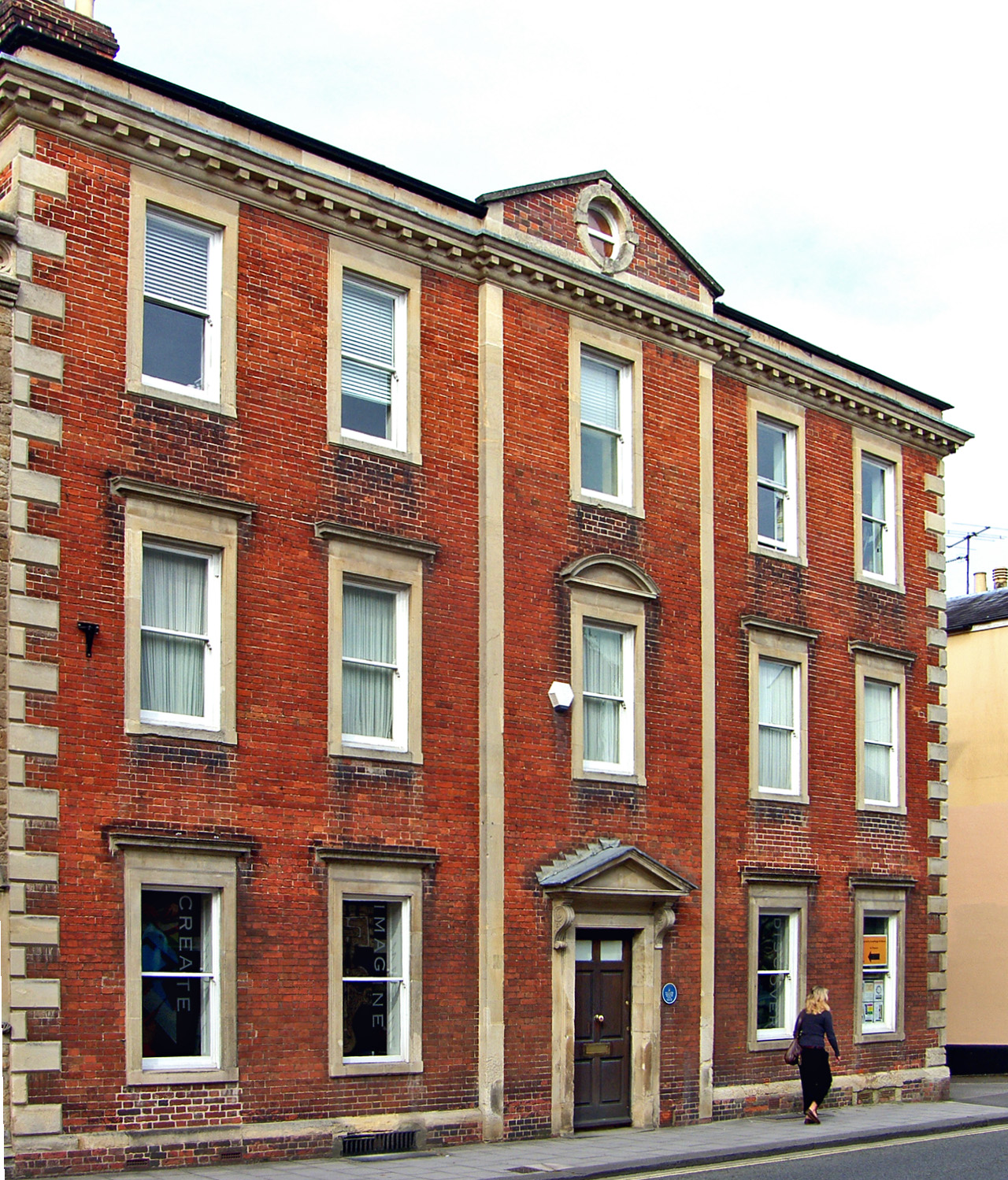 When the Museum was formed in 1873 it occupied just number 41. Later the Museum purchased number 40 and built a small building including the modern entrance to make one building from the separate houses. As can be seen from the photograph number 41 must have been an even more elegant building when it was separate. It is a grade 2 listed building and its English Heritage description appears at the end of this article.
The Reverend Fenner ran a boys' boarding school utilising both houses in the 18thcentury. He was the baptist Minister first on high Street from 1778 to 1791 and then he was the first Baptist Minister at the new Sheep Street Baptist Church from 1791 until 1796.
In those days number 40 and 41 Long Street were separate homes. In 1770 the Revd. J. L. Fenner (d. 1795) an Independent minister set up a school at no. 40 Long Street. Among its pupils was Fenner's nephew, the diarist Crabb Robinson. As a Dissenter, Crabb Robinson missed, what he always regretted a public school education. His spent three years at his uncle's small and "very inferior academy at Devizes", where he complained, "there was little to be learnt, so he learned little". This is not unusual for boys even in well taught school! Robert Waylen, the cloth manufacturer, and Sir Thomas Lawrence in 1781 were also students there.
Mrs Fanny Elliot's Ladies Boarding School ca 1830 to ca 1853
In his booklet on the Congregational Church in Northgate Street Broster-Temple's tells us that after some years of unflagging energy Reverend Robert Sloper's voice began to fail. He invited a young student, Richard Elliott aged 22 and living in Newport Pagnell Buckinghamshire, to share the Ministry with him. Richard Elliott was ordained as a Pastor at Devizes in 1803. He proved to be an outstanding success from the start and he was well renowned for building Congregationalism in the West Country and his fiery eloquence and hostility to the slave trade.
Richard Elliott married Frances (Fanny) Stoughton, from Buckinghamshire, sometime around 1804/5. Between 1806 and 1823 he baptised 11 of his own children! Frances became the Principal of a high class girls' boarding school at 41 Long Street in the home where she and Richard lived with their large family. It is not clear when the school started under Frances's direction, but we know that she was advertising in Pigot's Wiltshire Trade Directory for Ladies Boarding Academy in 1822 from a High Street address. She would have had young children and babies at home, but with the ready availability and low cost of servants she would have been able to start her career in education and generate income for the large family.
The 1830 Pigot's Directory has a similar advertisement for a Ladies Boarding school but this was now in Long Street. So by then the family would have moved to the larger house. Her husband's fame, as a Dissenting Minister within the non-conformist and independent church circles, no doubt proved beneficial in attracting a good number of middle class girls to the school.
The census of indivual residences does not start before 1841 and so we have no data until then. The census for 1841 and 1851 provides interesting information about the high class Boarding School. In 1841 Frances was already 55 and the Governess. She had 5 teachers assisting her, 4 o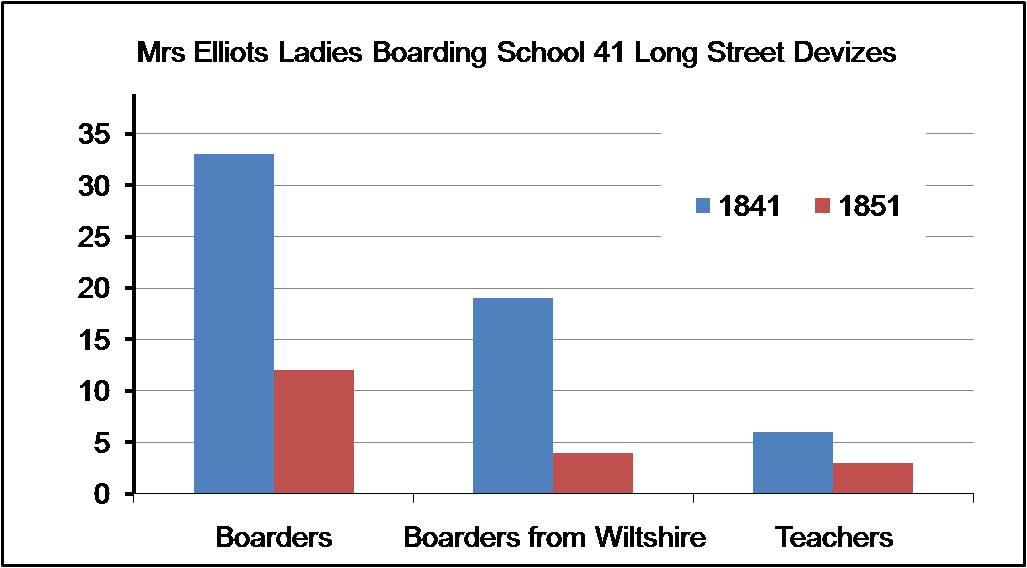 f whom were her daughters. There were 33 girls aged 4 to 19 in the school. In the census table for 18141 and 1851 provided by an Adobe PDF link the 1841 NICounty means not born in Wiltshire. By 1851 there birth place is given. In 1851 the school was smaller with only 12 boarders in the school. Frances was now 69 and her husband Richard tiring just 2 years before his death. The only teachers in the school are her daughters, although there is visiting governess – presumably trying out the role. Of the 12 boarders 7 are from outside Wiltshire; showing that there was still an attraction from a wider area – mostly from Somerset and Hampshire and 1 from Berkshire. The girls' father seem to be middle class professional and in trade; 1 was a solicitor and , another confectioner with a factory. One young lady went on to be an unmarried matron of care home in Leicestershire by 1881.What is clear is that the Elliot daughters were either not capable or did not wish to take on the school. Richard Elliot died in 1853 and Frances died in 1860. By1861 her daughters were either married and living away in 2 cases living in Devizes on private means - they were not teaching. The exact date the school closed at 41 Long Street is not yet clear, but one suspects it was probably the school year following Reverend Richard Elliot's death – late 1853 or 1854.
Miss Maria Buckland's Ladies Boarding School (1861 at 41 Long Street, 1871 at 32 Long Street)
Maria Buckland was born inAbott's ' Leigh, Bristol Somerset in 1822. Her father was a tailor who seems to have been reasonably well off but certainly he moved three time before all his children had left home. Maria had at least 3 sisters two of whom she taught with throughout her career (Anna in Devizes and Sarah and Anna in Reading). The 1851 census shows Maria at home with her parents in Swansea, an occupation is not listed.
The 1861 census shows that she was running a small Ladies Boarding School at 41 Long Street with her younger sister Anna teaching too. We are not sure when Maria started her school but is likely to be soon after the Elliott's' moved on around about 1853/4. There is a connection between the Buckland family prior to 1854 and Devizes. We learn from the 1881 census that a niece of the Bucklands, Annie M Cunnington (27) born in Devizes in 1854, was staying with them at their Reading boarding school. Also Beatrice Cunnington (14) from Devizes was a pupil and another girl from Devizes too. In 1901 Beatrice Cunnington was unmarried, living and teaching at Southgate House Devizes. She had 11boarders 3 of whom were boys.
In 1861 other teachers in the Miss Buckland Ladies School, Devizes were Noemi Hoffmann aged 23 from Tangiers Africa teaching French and Emma Rogers from Hereford, a 20 year old. There were 10 girls aged 8 to 15 boarding at the school. The large number of teachers for only 10 girls suggests that they may have taken in day pupils, but this is not known definitively at present.
Sometime in 1862 the school moved to 32 Long Street - a much more modest House. The Devizes Proprietary Grammar School moved into 41 Long Street; Its short stay is documented below.
The 1871 census shows that the Miss Buckland School at 32 Long Street (right) was either in decline or that they were attracting mainly day pupils. The Buckland sister Maria and Anna are the only teachers and there are only 4 boarding girls in the School.
The Census for Miss Buckland's school for 1861 and 1871 are provided in an Adobe PDF file.
By 1881 the Buckland School had closed and Ann and Maria were both teaching at 115 London Road, Reading in a Boarding School with their elder sister Sarah as Principal. The school had a total of 6 teachers and 15 boarding girl pupils.
The Devizes Proprietary Grammar School
In 1859 the Devizes Proprietary Grammar School Co. Ltd. was formed. In 1862 it opened a school in 41, Long Street following the move of Miss Buckland's School to number 32, Long Street. It only appears to have had a short life as it closed in 1871. Exactly why this school was so short term is not really understood. The list of dignitaries and local names who contributed to the foundation of

the Proprietary Grammar school appears impressive. The Harrods Trade Directory of 1865 (right) lists the Headmaster as the Reverend J.M. Tandy and other local worthies as Directors and Governors.
Perhaps they were unlucky in their choice of principals but for whatever reason the school did not thrive. The 1871 census shows that Reverend James Baron was the Master of the Grammar School at 41 Long Street. He is listed as 32 years old, from Lancashire and as curate without souls, i.e did not have a Parish. Living with him was his wife and 10 month child and 2 servants. There were no boarding pupils listed. By the end of 1871 the school had closed.
Number 41 Long Street was then bought by the Wiltshire and Natural History Society who built their Museum in 1873. Later they bought number 40 and linked the two buildings into the one we see today. This building was to become the Museum in 1873.
There is no link between this Propietary School and the private Devizes Grammar School, founded by the Reverend Sargent Pugh, the new Baptist Minister in Heathcote House in 1874.
Appendix
English Heritage listing for 41 Long Street.
IoE Number: 432666 Grade 2 listed.
Location: PART OF MUSEUM, 41 LONG STREET (west side), , WILTSHIRE
Date listed: 09 April 1954; Date of last amendment: 09 April 1954
1042 LONG STREET(West Side)No 41 (Museum, part of)SU 0061 4/449.4.54.
1. 1042 LONG STREET (West Side) No 41 (Museum, part of) SU 0061 4/44 9.4.54. II GV 2. C18. 3 storeys red brick on plinth with stone coping. Chamfered stone quoins and vertical stone strips flanking central projection. Moulded dentil stone cornice and blocking course. Plain pediment over centre, stuccoed with bullseye window in stucco surround with keystones. Hipped slate roof. 5 recessed sash windows to upper floors, no glazing bars, in moulded stone surrounds with the addition on the 1st floor of a frieze and cornice to each the centre 1st floor window with a segmental pediment. 4 similar windows with frieze and cornice to ground floor. Central 6 panel door, formerly with good cast iron knocker of mask and dolphin, in moulded stone surround, cornice and pediment on carved scroll brackets. Interior has fine original staircase, 2 turned balusters per step, the moulded handrail swept up at the top of each flight. Delicate stucco work frieze in hall, staircase and 1st floor landing. No 41 also forms part of the Museum and like No 40 was at one time part of the school attended by Sir Thomas Lawrence PRA. No 31 to 42 (consecutive) form a group.